Every individual has the right to speak his mind. The right to speech is something that every individual can follow. However, using slander words or insulting can invite cases and showcase rude characteristics. A false and defamatory comment about another individual constitutes slander. You have the right to free expression under the First Amendment, but some limitations exist. However, hiring a personal injury lawyer at Phillips Law Office is best if you are the victim of slander or any such objectifying words. The attorney will help you file a defamation case against the person using slandering words. You can sue someone for slander with a personal injury lawyer.
What is a Slander?
Libel and slander are the two primary classifications of defamatory statements. Slander is verbal or spoken defamation, whereas libel is defamation in writing. Since written comments last longer than oral statements and because oral arguments gradually fade from memory, most courts and insurers view libel as more damaging than slander.
Yet, slander can cause just as much harm as libel. Therefore, to get the defamation case towards your side, the third party needs to present or hear the speaker's incorrect statement for there to be legal grounds for a slander claim.
How to Prove Slander?
If you intend to sue someone for slander, you may need to demonstrate that:
The false assertion or statement hurt you.
The person who allegedly made the defamatory statement and publicized it did so carelessly.
The claim does not fall under a privileged category.
The individual who made the false accusation was aware when they made it that it was untrue.
If false words hurt you or someone you care about, our knowledgeable defamation attorneys from Phillips Law Office in Chicago and other towns can help. We can help you to overcome the mental trauma you face. Your life could be altered by the harm you might be experiencing. Slander is a serious business; the costs can range from embarrassment or loss of reputation to adverse employment effects, property loss, or any business ties.
Different Elements of Slander
You must demonstrate that the defendant made certain defamatory statements negatively affecting your reputation to win a defamation claim.
The Remark Must Be Defamatory
Defamatory comments "tend to impair another's reputation and insult him to the core in front of the community or discourage third parties from associating with him," according to the Restatement of Torts.
A statement may be considered defamatory if it disparages a person's reputation. But, courts will determine which statements fall under the definition of defamation and which are uttered in reckless disregard by looking at each case individually.
The Declaration Must Be Released
In this, the third party must hear the false statement. However, it is essential to note that just because a statement is published doesn't guarantee it was published. It only needs to be told to a third party. Hence, a social media post or even a loud chat will suffice. A statement is often deemed "published" by courts when another individual hears, sees, and understands it.
The Claim Needs to be False
The claim must be untrue. Hence, if a remark is true even though it damages the reputation, it doesn't fall under the consideration of slander. Also, the claim should be corrected. It indicates that a statement like "he is the worst person and a cheater I have faced to date" will not be considered defamatory since its untruth cannot be established.
When can you Sue Someone for Slander?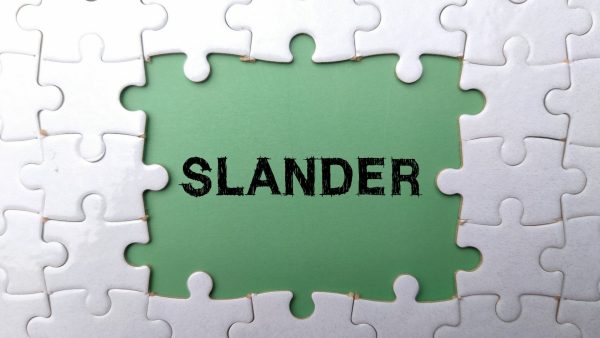 Any reasonable person or business can file a defamation lawsuit against the slander or false accusation. You could file a lawsuit anytime if you experienced emotional discomfort, mental pain, or something similar. Your defamation lawyer will endeavor to get you money, sometimes known as damages if the alleged defamation is upheld as defamation.
Our injury attorney can assist you with your defamation case if you're searching for someone who can lead the accusation. In addition, we can offer compassionate and informed guidance on all legal issues about defamation lawsuits.
When to sue for Defamation of Character?
When a negative, incorrect comment is made about a corporation, business, or person, it is considered defamation of character. The statement had to be made either orally or in writing to make the slander sound harmful. The offender will be prosecuted under defamation laws and may be obliged to compensate you for damages if you can show that they committed defamatory acts intentionally or with careless disregard.
Damages you can recover while suing for Slander.
At the very least, being the target of false statements is stressful. Moreover, if these comments are made about your character or job, they could hurt both your private and public life.
Having stated that, you got complete right to demand monetary damages for any injury incurred due to the negative comment published about you.
These damages make up for any financial losses due to slandering or defamation. Actual damages may be converted by courts into precise monetary sums and include:
Income, benefits, and wages lost: A defamatory statement can damage your professional space and result in your termination from your position. On the other hand, if you can still preserve your job, verbal slander may make you feel so ashamed and stressed that you miss work. In either situation, you suffer monetary losses you could recoup through a defamation lawsuit.
Reduced Earning Capacity: Some victims of slander lose their jobs due to the false accusations made against them, which results in a reduced earning capacity. Due to their damaged reputations, others also need help to obtain new positions and are frequently compelled to accept lower incomes than what they were previously paid. In any case, you can file a slander lawsuit to recoup future earnings.
Lost Business Revenue: By bringing a slander claim, you can claim financial compensation for any business opportunities, revenue, or prospects you have lost because of the statements of another. Even the business loss is due to defamation claims, where the victims often seek larger damages.
Medical Bills: In slander compensation, you may be able to collect the expense of treating your illnesses through a defamation case if you have experienced emotional hardship, depression, or physical symptoms, including high blood pressure and panic attacks.
Non-Monetary Losses
A slander victim may suffer considerable damages in addition to financial losses. Moreover, there is the non-monetary cause, such as:
Emotional distress
Public Disgrace
Shame
Ostracization
Pain and suffering
How can a Defamation Attorney help you?
The defamation case is quite complex, like the accident cases. Hiring a defamation attorney from Phillips Law Office can help with-
Identifying whether the claims are defamatory.
Identifying the size of your losses.
Depending on what is required, file a slander lawsuit against the defendant's insurer or go to civil court.
Hiring Expert Defamation Case Lawyer in Illinois
False accusations against a person's reputation can be upsetting, and in the worst circumstances, they can ruin their lives. Fortunately, you may hold them accountable for harming your reputation, job, and personal life with defamation law. Hiring a personal injury lawyer Chicago from Phillips Law Office can be helpful. They will collect evidence and ensure you get justice and your reputation back. Contact us now!
---
Also Read:
The Importance of Car Seats and Booster Seats in Protecting Children During Car Accidents
What to do after a minor car accident?
Hand Injury From Car Accident: Types & Average Settlement Values